TEAM GB FAMILY ACTIVITY TRAILS
Hull Trails – Signpost 4 Team GB Activity
You can also practice them while seated on a bench first!
Gymnastics jumps
Male and female gymnasts often compete on different pieces of apparatus, but one that they both compete on is the 'floor'!
Some simple floor exercises you can learn are jumps.
Check out the list below!
Tuck jump
With this jump, you want to bend your knees when you're in the air and aim to get your knees as close to your chest as possible.
Wolf jump
Once you've tried the tuck jump, you'll be ready to give a wolf jump a go!
It's just like a tuck jump, but instead, you want to keep one leg bent and one leg straight.
As you jump, make sure get the bent knee as close to your chest as you can, and make sure the straight leg is out in front of your body.
Try and keep your knees together if you can!
It's similar to what the gymnast is doing in the picture.
Straddle jump
As you jump up, split your legs to each side, but try and bring your legs upwards away from the floor and closer to your chest.
Split jump
For a split jump instead of splitting your legs to the sides (like you would with a straddle jump), you want to jump so one leg goes out in front of you, and the other goes behind.
Once you've mastered the jumps, see if you can make a sequence and teach it to your family and friends.
Unlock your achievement badge
FUN FACT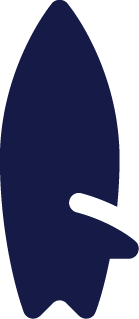 Did you know, surfing made its debut at the 2020 Tokyo Olympics and is being featured at the 2024 Paris Games! 5 judges score the tricks surfers perform on the waves.
Congratulations, you just earned a badge!
Share your achievement badge on social media using the hashtag #TeamGBActivityTrail
Give me more information!
This area is a great place to spot Redshanks and Curlews!
Redshanks
Redshanks can be found near the edge of the water looking for a lunch of snails, worms, and small fish!
Redshanks can be identified by their long red beaks and legs.
Give me more information!
This area is a great place to spot Redshanks and Curlews!
Curlews
Curlews can be spotted all along the Humber and River Hull, so keep an eye out during your whole walk!
Look out for their distinctive long down-curved bill and brown speckled body as they probe the mud with their bills.
Did you know, the birds with the longer bills are females?
Thank you to Dr Africa Gomez at the University of Hull for the information on local wildlife. Check out the Wild at Hull blog for more urban birds to look out for!
Keep your eyes peeled to see if you can spot any of these waders.
Take a photo and share it with us!
Updates and Feedback
Click the link below to keep up-to-date about the Team GB Family Activity Trails, including the launch event and future opportunities to get involved with the trails.
Already tried out the trails? Click the button below to give your feedback. All survey entries before August 31st will be entered into a prize draw to win Team GB merchandise or a family ticket to The Deep! Each time you walk the trails and complete the survey, you will get an additional entry to the prize draw.
Have any questions? Send an email to the lead researcher:
Loading map ...
The University of Hull and Team GB Partnership The partnership between the University of Hull and Team GB is based on the belief that everyone is extraordinary, and, we are there to support our students to help them find it, the same as Team GB supports athletes to do the same. We believe that extraordinary doesn't just happen – it takes hard work and determination with the right opportunities to achieve what they never thought was possible.
Using the exclusive opportunities, we have as part of our partnership has enabled us to inspire our students, staff and community to achieve their own extraordinary.
Explore Our Signpost Activities