TEAM GB FAMILY ACTIVITY TRAILS
Hull Trails – Signpost 13 Team GB Activity
Show your support with this activity!
Make your own cheer
Crowd support is so important for athletes – now it's time to make up your own cheer!
Let's begin!
What will you cheer for?
Spell out a word of phrase of your choice and make up a move for each letter.
You could do one for Team GB, The Deep, Hull, or the name of your favourite athlete or animal!
Share your cheer!
Add some jumps and spins and show off it off to your family!
Take a video of your cheer and share it with us on social media!
Share a photo or video of you trying out any of the Team GB Family Activity Trails activities using the hashtag #TeamGBActivityTrail
Unlock your achievement badge
FUN FACT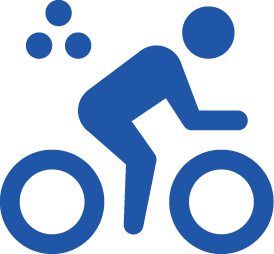 Team GB athletes (and brothers) Alistair and Jonathon Brownlee are two of the most successful Olympic Triathletes! Alistair is the only triathlete to have won 2 gold medals (in London 2012 and Rio 2016) and Jonathon is the only triathlete to have won 3 meals (bronze in London 2012, silver in Rio 2016, and gold in Tokyo 2020)!
Congratulations, you just earned a badge!
Share your achievement badge on social media using the hashtag #TeamGBActivityTrail
Give me more information!
Tidal Barrier
The tidal surge barrier has become a great landmark in Hull and is in place to keep us safe from flooding.

Can you see the large green panel?
Usually, this is flat near the top of the barrier.
But, when there are tidal surges, it rotates and is lowered right into the river bed.
Check out this video from the Environment Agency to see the Tidal Barrier in action!
Updates and Feedback
Click the link below to keep up-to-date about the Team GB Family Activity Trails, including the launch event and future opportunities to get involved with the trails.
Already tried out the trails? Click the button below to give your feedback. All survey entries before August 31st will be entered into a prize draw to win Team GB merchandise or a family ticket to The Deep! Each time you walk the trails and complete the survey, you will get an additional entry to the prize draw.
Have any questions? Send an email to the lead researcher:
Loading map ...
The University of Hull and Team GB Partnership The partnership between the University of Hull and Team GB is based on the belief that everyone is extraordinary, and, we are there to support our students to help them find it, the same as Team GB supports athletes to do the same. We believe that extraordinary doesn't just happen – it takes hard work and determination with the right opportunities to achieve what they never thought was possible.
Using the exclusive opportunities, we have as part of our partnership has enabled us to inspire our students, staff and community to achieve their own extraordinary.
Explore Our Signpost Activities